---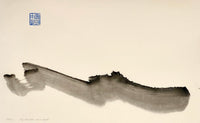 September 10, 2022.  10am to 2pm.     Deadline to sign up is September 5, 2022.  
Can your heart paint a picture with one brushstroke?  This class is for adult artists and artistic souls looking for a different way to connect their hearts and art through a contemplative process. Artist Marilyn Wells begins with a bit of dharma or talk/inquiry about meditation as a means to interrupt the chaos of modern life. The goal being to approach your creative process with quiet purpose and intent.  After a simple, guided meditation practice, Marilyn will teach beginning sumi-e brushstrokes using curated sumi-e brushes and paper.  Finally, we will paint in an abstract sumi-e style while contemplating both ancient poems and contemporary verse or music.
Participants- please bring a bag lunch.  Brushes, ink, and paper sold separately.   Full refunds if the participant minimum of 5 is not met.  Class size is limited to 15.